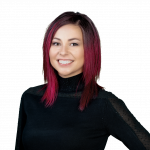 Shay Giver
Marketing Coordinator
A little bit about me...
Shay Giver was born and raised 6th generation Alaskan. Growing up, her summers were spent camping and fishing on the Kenai Peninsula. During the winter she would work on art, or on the trails snowmachining.
Upon graduating Shay moved across the country to attend The International Academy of Design and Technology in Tampa, Florida. She graduated in three years with a Bachelor's Degree in Applied Science and Marketing. She stayed in Florida using her degree for a short time until deciding to return to Alaska.
Wanting more opportunities for her family, Shay decided it was time to move and Abilene was the perfect fit for them! Shay saw an opportunity in Real Estate and decided to learn from the ground up. She took a position as a Transaction Coordinator for a team at Keller Williams Synergy. She recently joined our team as our Marketing Director. Shay is studying for her real estate license. If you ask Shay "Every day is a great day in Abilene!"